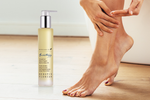 DESTRESS, DECOMPRESS & DETOX

DESTRESS, DECOMPRESS & DETOX


The start of a new year is the perfect time to renew our outlook, our motivation and even our lifestyle regimens. After a holiday season of overindulgence, packed social schedules and added stress, the toll can show not only on our bodies, but on our skin too, by way of a dull, lackluster complexion and depleted energy. Thankfully, just a few simple steps can help you destress, decompress and detox for skin and body that feel like new!
FOR YOUR SKIN:
Start by cleansing your skin of all impurities with
Clarifying Mineral Enzyme Cleanser
. This natural cleanser detoxifies and oxygenates the skin to refine and balance your complexion. Fruit enzymes, botanicals and skin-healthy minerals boost cell respiration and improve skin function and texture.
Next, replenish nutrients and flush toxins with
Rejuvenating Spirulina Masque
. Using this nutrient dense masque 2-3 times per week stimulates circulation, collagen production and cell turnover while minerals and proteins from marine superfoods detoxify and re-mineralize.
Rehydrate and reset your skin with
ANDA Coherence Elixir
. This structured water has been magnetized to its naturally most energetic and coherent state to deeply hydrate cells and optimize skin function. It is also infused with vital skin-fortifying nutrients and plant cell culture to enhance skin's firmness and elasticity hand helps slow cellular aging.
FOR YOUR BODY:
A warm bath can be more than just relaxing. Adding
Mineral Wellness Soak
will turn your bath into a spa wellness experience, remineralizing, detoxifying, and rebalancing from head to toe. These concentrated, hand-harvested mineral crystals deliver the purifying power of magnesium transdermally to release toxins, soothe aching muscles and restore vitality.
BONUS: Taking a bath also burns calories! Research has revealed that taking a bath burns as many as 140 calories per hour, that  is the equivalent of a 30 minute walk. Although far fewer than exercise (such as cycling, which could burn up to 630 calories), it is a great way to burn a bit more while getting some much needed post-workout recovery.
Give your skin an extra boost of hydration and a radiant glow with
Organic Grapefruit Black Pepper Bath & Shower Oil
. This organic aromatherapy bland revives and refreshes your senses while nourishing your skin and promoting detoxification. Grapefruit is known to boost lymphatic activity and black pepper seed oil has long been used as a  powerful ant-inflammatory. Add this to your bath, apply directly to skin, or mix with your favorite moisturizer.
After making January your month of renewal with these detoxifying favorites, you'll want to keep them on hand all year long!