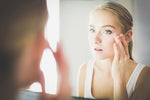 SKIN SABOTAGE: HABITS THAT DAMAGE YOUR SKIN WITHOUT YOUR KNOWING

SKIN SABOTAGE: HABITS THAT DAMAGE YOUR SKIN WITHOUT YOU KNOWING
To achieve beautiful skin, some people prefer to use natural products or follow an organic diet. However, as we come out of the holiday season, these routines can be difficult to stick to! Plus, in the quest for a clear, smooth complexion, you may be committing skin sabotage in ways you didn't even realize. While we can't provide diet willpower, we can help you identify and avoid these well-meaning skincare habits that stand in the way of achieving your perfect post holiday complexion.


Over-Washing

Chronic over-washing may leave your skin dried out, promote flares or inflammation and increase unwanted signs of aging such as wrinkles and fine lines, which tend to be more visible on dry skin.

Drying becomes a problem if you use harsh soaps and cleansers that strip skin of its natural oils and disrupt its ideal pH. Don't forget that your skin is a delicate organ, so you need to be mindful about the products it comes in contact with and how often.

To make sure you're not dehydrating your skin, use a gentle cleansing gel that removes makeup, oils, and dirt without destroying the balance of your body's natural moisture.


Picking Blemishes

We know, sometimes, it can be oddly satisfying to do your own at-hone extractions. But the truth is, only a dermatologist or licensed esthetician should be extracting your blemishes.

Pressing or manipulating blemishes can be the biggest assault you can do to your skin, as they tend to leave permanent effects including pigmentation, scarring and pitting. Instead, try using a clarifying skincare line to rebalance your skin, mitigating existing blemishes and helping stop them before they start.


Following the Same Skincare Routine Year-Round

Think of this like you do your wardrobe: just like the transition from sandals to boots, the needs of your skin also change with the seasons. Reevaluate your skincare routine every now and then to make sure your skin is getting everything it needs to be at its healthiest given changing environmental conditions. A couple of seasonal tips:

Winter: Focus more on hydrating and moisturizing the skin.

Spring: Think spring cleaning. Use products to help revive the skin from winter dryness.
Summer: Protect the skin from the sun with sunscreen and antioxidants. As the air tends to be more humid in the summer and spring, use products that are more lightweight. If you live in an area with dry heat and are exposed to many air conditioned rooms, be sure to moisturize and replenish your skin with lightweight hydrators like hyaluronic acid serum.

Fall: Increase exfoliation to the extent your skin type permits to revitalize it after any damage the summer sun might have done. This also helps to better prepare the skin for winter hydration.


Not Wearing Sunscreen

Always wear sunscreen- even in the colder months! Just because we don't get all the benefits of nice weather doesn't mean our skin isn't getting all of the effects of the sun's presence.

If you would like to add a bit more color to your complexion, try our natural products, such as our Luminizing CC Crème or our Skin Renewing Foundation mixed with a slightly darker shade than usual to achieve a sun-kissed glow, without the damage.


So don't sabotage all the good you do for your skin by falling into these common skincare traps. Avoid them with these simple tips, and you'll enjoy a healthy, happy complexion all year long!