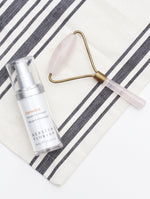 VITAMIN C FOR NATURALLY GLOWING SKIN
VITAMIN C FOR NATURALLY GLOWING SKIN
Vitamin C is not only a powerful antioxidant known for boosting immunity, reducing the symptoms of the common cold and helping to increase energy levels but it also yields some impressive results when it comes to our daily skincare routines.
Used topically, this miracle worker has something else up its sleeve for every skin type, tone and texture. For starters vitamin C naturally stimulates collagen and elastin production helping to promote a more youthful complexion by minimizing the look of fine lines and wrinkles. So reach for products rich in regenerative Vitamin C when your skin is need of a little plumping or firmness. 
Next, this multi-tasking ingredient assists in reducing hyperpigmentation, also known as dark spots or uneven skin tone. Vitamin C helps inhibit skin's production of tyrosinase which in turn lessens the production of melanin, the pigment responsible for dark spots, quickly transforming complexion from dull to bright. This is enhanced by anti-inflammatory properties which can lessen the appearance and redness caused by blemishes, acne, and scarring to leave skin clear and refreshed.
If you live in drier climates or often experience temperature fluctuations, the daily application of Vitamin C can also help improve the level of moisture in your skin giving you an added hydration boost that sticks with you all day. Of course, this is while its strong antioxidant activity also fends off free radical damage, a key contributor to skin aging.
You can quickly and easily start incorporating Vitamin C's super powers into your daily skincare routine with Correcting Serum C+ Infusion. This highly potent form of Vitamin C (50 times more active than standard Vitamin C, in fact) works deeply to boost firmness, tone and increase brightness as it minimizes fine lines and imperfections. This lightweight serum also works to boost collagen synthesis by up to 50%, reduce melanin production by up to 80%, and enhance skin structure all while protecting from free radicals. Proteins and botanicals like Algae Extract and Bitter Orange Oil add elasticity and anti-inflammatory benefits to calm, soothe and revitalize your complexion.
Make sure you're getting the most out of your Correcting Serum C+ Infusion by exfoliating to prime skin texture for maximum penetration. Correcting Refining Toner removes excess oils and trace impurities and gently resurfaces texture with powerful hydroxy acids as natural botanicals refresh, purify and calm complexion by balancing your skin's natural pH levels.
Protect and hydrate post serum with Correcting Rescue Crème. Rescue your skin from environmental stressors and damaging elements with this rich nourishing treatment that hydrates, soothes and comforts on contact.