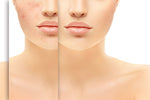 THE BEST PRODUCTS TO FIGHT CONGESTED SKIN

THE BEST PRODUCTS TO FIGHT CONGESTED SKIN
What causes congested skin?

Congested skin is primarily caused by a combination of impurities, sweat, dead skin cells and natural oils. If this becomes trapped within the pores, it can cause whiteheads or blackheads to develop on your face, usually along your cheek or t-zone region. Whiteheads usually appear as firm white bumps on the surface of the skin, while blackheads are very clogged pores that remain open and start to darken due to oxidization. While poor dietary habits or genetics can be factors, a lackluster skin care routine can also contribute to congestion, which left untreated may eventually evolve into acne. Fortunately, it is simple to incorporate effective skincare products into your daily life to help avert this.

5 Steps to Treat Congested Skin:

1. Cleanse

The first step towards improving your complexion is to remove surface impurities with a clarifying facial cleanser, like our Clarifying Mineral Enzyme Cleanser. This cleanser's fruit enzymes help to keep your skin hydrated and soft while also deep cleaning your pores and removing congestion-causing bacteria.

2. Tone
Toning takes cleansing a step further- a must for congested skin. The fruit extracts in our Clarifying Probiotic Mineral Tonic works to stimulate cell turnover as probiotics promote skin-healthy microorganisms that keep skin balanced and able to function better, helping to reverse damaged caused by congestion.

3. Treat

Using a targeting skin treatment, such as an exfoliating peel, is another way to get closer to achieving congestion-free skin. Correcting At-Home Professional Peel contains anti-inflammatory and anti-bacterial botanicals that can prevent bacterial growth while riding dead, dull surface cell to give you visibly more radiant skin in just one use. An exfoliating option to use overnight is a Correcting Intensive Renewal Glycolic 15 whose professional level of glycolic acid renews the surface of the skin, strengthens tone and texture as it improves cellular respiration and even reduces the appearance of fine lines and wrinkles.

4. Specialist

Specialized skin products such as clarifying masques can do wonders for people suffering from congested skin. Apply our Clarifying Moor Mud Masque to your face after exfoliating. This masque will absorb excess oils and detoxify your skin, leaving it feeling noticeably softer and smoother.

5. Moisturize

All skin types need moisturizer- including congested. Not moisturizing actually prompts skin to overproduce oils, which in turn can worsen congestion. Our popular Clarifying Daily Hydrator is lightweight, breathable and shine-inhibiting yet provides deep, lasting hydration to skin to help it look and function its best. 

The right products and skincare routine can transform your skin from dull and congested to smooth and clear. All you have to do is make a habit of caring for your face everyday with effective skincare products and exfoliate one to two times a week to notice real results.