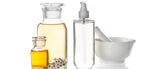 WHAT DOES YOUR SKIN NEED? THE ULTIMATE GUIDE TO FINDING THE BEST SKINCARE PRODUCTS
WHAT DOES YOUR SKIN NEED? THE ULTIMATE GUIDE TO FINDING THE BEST SKINCARE PRODUCTS
Having trouble finding the perfect product for your skin? The vast range of products on the market can be overwhelming to say the least. And not every product you see written about or advertised will be suitable for you and your skin's individual needs. The key to finding the best skincare products is to know what you are looking for! Demystify the search with these simple steps.

Know Your Skin Type

It may seem counterintuitive, but not all skincare products are created for certain skin types. However, the best skincare products usually are, especially for skincare basics like cleansers and moisturizers, and they can be much more effective than a "one type fits all" approach. You may think you know your skin type, but try this simple test to be sure.

Wash your face with plain water and pat dry. Does your skin feel tight after 15  minutes? If so, you have dry skin. Try pressing some tissue paper against parts of your face, such as forehead, nose and cheeks. If it sticks or absorbs oil, that means you have oily skin. Your skin may be oily in some areas and normal or dry in others, which suggests that you have combination skin. Knowing your skin type will narrow down the search to those products that are best suited to your skin.

For drier skin types, Rehydrating Neroli Cleansing Milk is an ideal choice to gently cleanse without stripping natural oils. Normal and combination skin will benefit from the refreshing feeling of Rejuvenating Cleansing Gel. If you have oily or acneic skin, opt for Correcting Foaming Cleanser to dissolve impurities and keep breakouts at bay.

Identify Your Top Skincare Concerns

None of us has perfect skin, but using products tailored to your biggest skin problem can make a difference in how your skin looks, and more importantly, how you feel about it. Rather than choosing a product that meets several of your needs or claims to do it all, opt for a product that targets a specific skin problem. The best skincare products are formulated with active ingredients that target one or two specific issues effectively rather than including a plethora of ingredients that might conflict with each other or not be in high enough concentration to make a difference.

For example, perhaps you're most concerned about sagging skin or loss of elasticity. Rejuvenating Firming Extract features targeted botanicals to promote skin structure and tone to address that concern head on. Is your skin dry, red and irritated? Rejuvenating Moisture Balm is specifically formulated to hydrate, soothe and calm- a perfect match. Maybe undereye circles and puffiness are your skin pet peeves. Correcting Brightening Eye Crème targets those concerns and provides noticeable results in just one use.

Read the Ingredients

Ingredient labels not only tell you what to avoid, such as toxins or ingredients to which you might be allergic or sensitive to, but also what to embrace, like active or natural ingredients that are beneficial to your skin or address your specific skincare concerns. Here are some helpful tips to decipher some of the labeling fine print.

Words or designations like "eco-cert" or "organic" indicate unprocessed natural ingredients that meet certain European and US regulations for naturalness and sustainability. Non-GMO is another natural indicator, showing that ingredients have not been genetically modified. Looking for plant-based ingredients? Latin words, sometimes followed by English words in parentheses, describe extracts or oils from plants or botanicals. If they are listed toward the middle or upper three-fourths of the ingredients, chances are good that they are at effective levels. For exfoliation, whether for brightening, blemishes or fine lines, keep an eye out for words like acid, glycolic, salicylic and hydroxy. If anti-aging benefits are what you seek, "peptide" and "cell culture" are great finds on your product label.

So what are the best skincare products on the market? The ones that meet your own unique needs! Taking the time to  understand your skin type, identify your key concerns and choose your products accordingly can result in healthier skin- and a happier you- that glows with radiance!