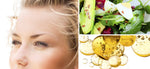 HEALTHY OILS FOR YOUR BEST BODY- INSIDE & OUT
HEALTHY OILS FOR YOUR BEST BODY- INSIDE & OUT
The secret to healthy, glowing, vibrant skin? Nourishing it from the inside out AND the outside in! Good-for-you-oils help achieve that coveted, youthful radiance we all seek, from lustrous hair to clear eyes and complexion. But not just any oils will do. There is so much conflicting information that it can be hard to choose. Are oils really good for you? Which ones are the best to use? What's the best way to incorporate them into a healthy diet and good skincare regimen?

Oils have definitely made a comeback in recent years, both in the kitchen and at the beauty counter. In the 80's and 90's, there was a common misperception that oils didn't fit into a healthy diet- or a healthy skincare routine. Food and beauty products alike were emblazoned with "oil-free" and "fat-free," and very few people actually used oil directly on their bodies or faces. Now nutrition and skincare experts agree that adding the right kinds of oils into your lifestyle can be beneficial in so many ways, from supporting cell growth, increasing energy and protecting from inflammation, to aiding in nutrient absorption and lowering blood pressure and cholesterol. In fact, the American Heart Association touts healthy, unsaturated oils as an essential element to any healthy eating program.
In the kitchen, olive oil makes a great staple as it's perfect to use when sautéing vegetables and drizzling over fresh greens. Mix things up a bit with Avocado Oil. It's a rich, healthy accent for fish dishes or whipped up with some fresh-squeezed orange juice and balsamic vinegar for an easy homemade dressing. Also try Walnut Oil for a delicious nutty flavor that is packed with anti-inflammatory omega 3's, antioxidants and phytonutrients. 
Read on for even more ways to include a variety of oils into your day- in the kitchen and beyond!

Beverages

Boost your protein intake by adding a teaspoon of hemp oil or a sprinkle of hemp seeds into your morning smoothie. This power food is bursting with the ideal amount of essential fatty acids as well as balanced levels of omega 3's and 6's.

Turn your morning coffee into a rich creamy treat by blending a cup of warm coffee, a teaspoon each of organic coconut oil and grass-fed butter and a dash of cinnamon and vanilla. Not only does it taste dreamy, it provides extended energy and helps you feel full longer.

Vitamins

A high-quality daily supplement of fish or krill oil provides important omega-3 fatty acids-- EPA and DHA. The benefits are numerous from reducing the symptoms of rosacea to increasing cardiovascular support, brain health, memory and protecting cells against oxidative stress and damage.

Body

Using oils on the face and body have been a beauty secret of women throughout history. Cleopatra and Helen of Troy knew that precious oils extracted from nuts, seeds and plants deliver the moisture and protection that skin craves.

Our new collection of Organic Facial Oils makes it easy to replicate these ancient beauty rituals! Just a few drops of our curated jojoba, argan, meadowfoam seed and sea buckthorn oil blend can be massaged directly into clean skin, used as a nighttime treatment, added to moisturizer or even applied to dry cuticles or hair. Choose from Rehydrating Neroli Facial Oil, Clarifying Lavender Facial Oil, or Rejuvenating Anti-Stress Oil, all with 100% natural essential oils that add unique skincare benefits and aromatherapy.

Precious oils are not just for your face. Your skin needs moisture and nourishment from head to toe. Add a few pumps of scented body oil, like Organic Lavender bath & Body Oil, into a relaxing warm bath, or smooth directly onto damp skin post-shower for a silky glow. Blend our  Organic Neroli Blossom Bath & Body Oil with your favorite body lotion to boost hydration and add essential aromatherapy that calms your mind and uplifts your spirit. Or for something more detoxing and purifying, we suggest trying our latest Organic Grapefruit and Black Pepper to better promote circulation and lymph drainage.

So dip your toes and more into the wonderful world of healthy oils- from the inside out AND the outside in-- and reveal your most vibrant, glowing skin yet!

Wishing you wellness!