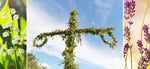 6 MAY DAY INSPIRED WAYS TO USE FLOWERS FOR WELLNESS AND BEAUTY
6 MAY DAY INSPIRED WAYS TO USE FLOWERS FOR WELLNESS AND BEAUTY
May is coming up roses! (and other skin-healthy blossoms...) With April showers  subsiding min many parts of the Northern Hemisphere, May flowers are beginning to emerge. This beautiful shift in landscapes and gardens worldwide has long been cause to celebrate the first of May. After all, the history of May Day dates back to ancient Roman times with the festival of Flora, the Roman goddess of Flowers. In the centuries since, dancing around the maypole, crowning the Queen of May and giving neighbors "May baskets" have been long-held traditions throughout Europe and America. In our founder Kerstin Florian's home country, Sweden, midnight bonfires and fireworks officially welcome the season when Scandinavians can start enjoying the outdoors and its lovely native blooms. And not only are flowers a sight to behold, but the also offer a bouquet of wellness benefits, from essential oil aromatherapy to cell culture skincare. Here are some beautiful ways to incorporate and celebrate the beauty of flowers in your daily life.
 Bring May Baskets back! Leave an anonymous basket of flowers and fruits on your neighbor's or friends doorstep. Let the thought of their happy surprise uplift your spirit.
Rediscover aromatherapy. From relaxation and mood elevation to tension and headache relief, floral essences have a myriad of benefits. Try dabbing our Organic Calm Mind oil onto your temples and pulse points and let its blend of Lavender, Peppermint and Cajeput melt away your stress.
Treat your co-worker, loved one- or yourself, to a colorful bunch of flowers and instantly brighten mood and surroundings! Take time to smell the roses... or Lavender or Chamomile! A relaxing bath with our Organic Lavender Bath & Body Oil or Chamomile Shower/Bath Gel soothes skin and senses alike. Finish with a mist of Neroli Water to seal in aromatic hydration.
Add edible flower petals to a spring salad or cold pitcher of iced tea for a beautiful twist on refreshing springtime meals.
Put a twist on your skincare regimen by adding a few drops of Lavender Facial Oil to your favorite moisturizer, infusing tension-melting aroma and adding suppleness.
 Don't have room for a garden? Try planting a small container garden or window herb garden. There are even succulents that bloom for the green-thumb-challenged! Flowers come and go through so many seasons. Remember to take some time to enjoy them on May Day and every day- whether outside, inside or as part of your wellness and beauty regimen!